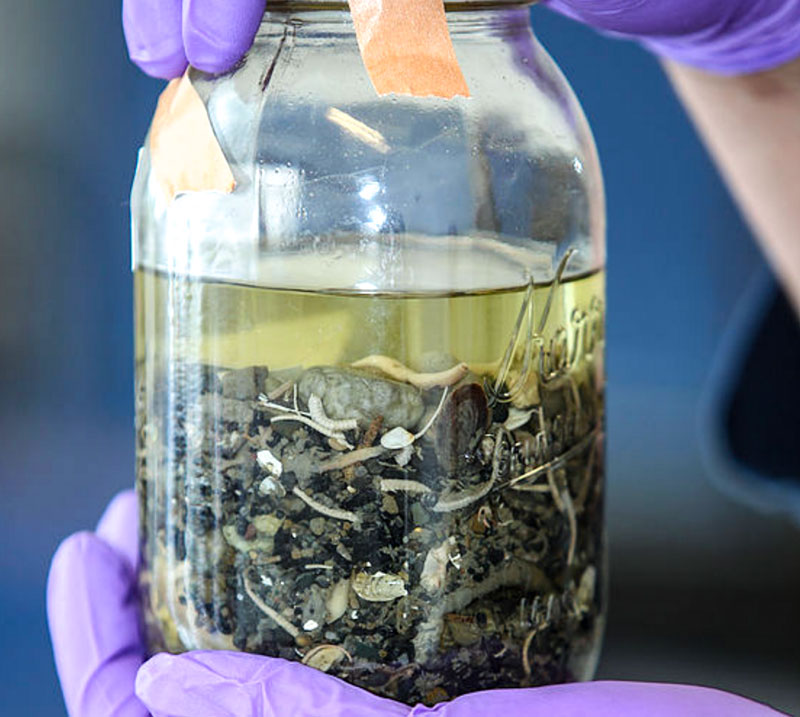 Using biological indicators to evaluate environmental condition and change.
Taxonomy Laboratory
In operation since 1995, EcoAnalysts has built North America's largest and most comprehensive taxonomic services laboratory. EcoAnalysts stands out among taxonomy labs – we provide high quality data, we have high capacity for large numbers of samples with quick deadlines, and we provide excellent customer service and support to maximize the value of the services we provide. EcoAnalysts is not only a highly technically proficient taxonomy laboratory, we are very focused on our relationship with our clients. We strongly believe in good communication as a critical component for successful projects.
EcoAnalysts provides taxonomic identification of marine, estuarine and freshwater species from around the world.
Benthic Infauna

Terrestrial invertebrates

Periphyton (diatoms and soft algae) and Phytoplankton, Macroalgae, Cyanobacteria

Zooplankton

Fish (eggs, larvae, juvenile, and adult) and fish stomach contents

Fish Stomach Contents

Biomass: wet weight, dry weight, ash-free dry mass, length-weight regressions

Chlorophyll a,b,c, and pheophytin corrections (Spectrophotometry-EPA 446.0, Fluorescence-EPA 445.0)
SFS Certified Taxonomists
Each of EcoAnalysts' benthic macroinvertebrate taxonomists are certified by Society for Freshwater Science (SFS, formerly North American Benthological Society) in one or more taxonomic groups through the Taxonomic Certification Program Genus Level Certification examination. The SFS Taxonomic Certification Committee considers successful completion of the certification tests to be an objective reflection of the capability of an individual to perform accurate and precise taxonomic identifications within the taxa groups for which they are certified. https://stroudcenter.org/sfstcp/
Ecological Consulting Services
Going beyond analyzing taxonomy samples, our staff are experts in designing sampling programs, conducting field work, and analyzing and interpreting results. We produce reliable and defensible results for large and small assessment programs of marine, estuarine, and freshwater habitats. Our aquatic ecologists can assist with all stages of assessment including, technical negotiations, expert witness, and project management.
Equipment Rental
We provide sampling equipment and experienced personnel to support a range of ecological investigations including freshwater, nearshore and deep-water benthic surveys. This includes field sampling using agency standard methodologies with Van Veen, Ponar, vibracores, kick nets, box-cores or specially designed grab sampling devices to obtain samples of sediment and biota for assessments.
Service Applications
Federal and State Environmental Permitting and Compliance

Habitat Assessment, Restoration and Compliance

Baseline and Post-Baseline Assessment

Site Investigation and Monitoring

Natural Resource Damage Assessment

Ecological Risk Assessments

Remedial Investigation and Feasibility Studies

Biodiversity Management Plans

Climate Change Assessment